Apps for iPhone
­

Live Color Finder
Use your live camera feed to select any color on the screen. You can also load an image from your photo library and select a color from it.
You can freeze the live camera feed if needed, to get more precision when choosing your color.

⇪ Platforms ⇪
Δ top of page
­

Home Mortgage Calculator (Bolåneräknaren)
Are you in the process of buying a house?
Worried about the costs of your mortgage?
Use Home Mortgage Calculator to get a fast overview of your costs, down payment, monthly principal and interest costs and rate changes.
🚴 Home sweat home!
⇪ Platforms ⇪

No future plans for other platforms
Δ top of page
­

iBike HUD
Having trouble finding your way on your bike rides... not anymore!
Just strap your device on the handlebar and get going on your route!
You can load routes to show on the map, directly from sites like:
Runkeeper.com
Garmin Connect
Strava
The app also supports loading route data from files like:
.gpx (.xml)
.tcx (.xml)
.json
.csv (.txt)
Connect to Dropbox for easy loading of route files or use iTunes File Sharing to sync your route files to your device. You can also load a route from an http-link or paste route data from the clipboard.
There are a lot of other smart functions like:
Auto zoom
Auto pause
Auto rotate
Follow me
Compass
Weather & wind
Different map types
🚴 Easy riding!
⇪ Platforms ⇪

No future plans for other platforms
Δ top of page
­

Wadado - The Decision Maker
How often do you have difficulty making decisions regarding problems in your everyday life?
Now there is a simple solution to that annoying problem!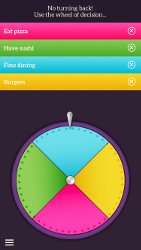 Just add some suggestions and spin the wheel. It is fun and easy at the same time!
Suggestions on where the app can be used:
What to eat
Choosing bedtime story
Determine the wall color in the new housing
What to do on Saturday night
Or if you just should eat, sleep, rave & repeat...
As you can see, you can use the app's simplicity in countless areas!
⁉ What will the wheel of decision, decide for you⁉

⇪ Platforms ⇪
Also available for iPad
Δ top of page
­

Modulo Enumerator
Calculate the 'modulus' of two values and prevent the common pitfalls.
In computing, the modulo operation finds the remainder after division of one number by another (sometimes called modulus). In mathematics the result of the modulo operation is the remainder of the Euclidean division.
% Happy "moduling"!
⇪ Other platforms ⇪

No future plans for other platforms
Δ top of page
💰 💰 💰
I would like to thank everyone who has donated money and by doing so supporting my projects. Let the money work (for me).
💸 💸



General information about the apps on this site
All apps have been tested on appropriate devices. Support for running apps on iPad, iPhone or iPod devices with older iOS version than 7.1 is not applicable (it may work, or not). Android apps have VERY limited support due to the fact that there are over 5000 different devices on the market (if it works... good for you! Otherwise, buy a product from Apple :P ) Some apps show ads which usually can be removed with an in-app purchase. By removing ads, you support further development and future releases. You can also make extra donations on this site. Thank You in advance!
📵 LIABILITY: In no event shall the programmer be liable for any damages whatsoever (including, without limitation, damages for loss of business profits, business interruption, loss of business information, or other pecuniary loss) arising out of the use or inability to use the software, even if the programmer has been advised of the possibility of such damages.
Δ top of page